The Malefactor´s Bloody Register
Release: 04. october 2010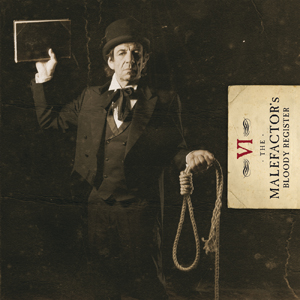 Track listing for "The Malefactor's Bloody Register" is as follows:
1. Crooks & Sinners
2. Race For The Gallows
3. The Hangman's Hatch
4. The Bolted Door
5. This Cursed Flesh
6. I Hung My Heart On Harrow Square
7. Crowning The Cycle
8. Of Branded Blood
Finally the dates have been set for the release on Dark Essence Records our sophomore album. The album will be out on CD and digital format on the 13'th of September in Norway and the 4'th of October in Europe. The album has the title "The Malefactor's Bloody Register". As last time it's recorded at Conclave & Earshot Studios by Bjørnar Nilsen, who is also the our front man, the album was mastered by Brian Gardner (ISIS, NIN, DAVID BOWIE), and features a guest appearance by ENSLAVED's Herbrand Larsen on Hammond Organ, as well as special guests on cello, viola and saxophone. "The Bolted Door", a track from "The Malefactor's Bloody Register" is now streaming on our MySpace.
"The Malefactor's Bloody Register" explores the theme of crime and punishment from the perspective of both the criminal and the hangman, and once again we have been lucky enough to persuade Helge Jordal, one of Norway's most renowned character actors to appear on the cover of the album. Jordal had agreed to be featured in the artwork for "The Dystopia Journals" after listening to the album, and his collaboration with the band continues with "The Malefactor's Bloody Register", for which he takes on the role of the Hangman, and is photographed in brandishing a law-book and clutching a noose.
Avaliability: Released
Format: CD-jewel case
Reviews:
14/15 Legacy Magazine, 5/6 Østlendingen, 9/10 Don't Count On It Reviews, 4/6 Scream Magazine, 4/6 Norway Rock Magazine, 9/10 Metal Sound Magazine,
6/7 Metal Hammer, 14/15 Legacy Magazine, 6/6 Heavyhardes.de, 9/10 Metal.de, 80/100 Obscure Magazine, 8,5/10 Hard Rock Mag, 17,5/20 VS Webzine,
93/100 Lords of Metal, 90/100 Rock Tribune
The Dystopia Journals
Release: 2007, 2010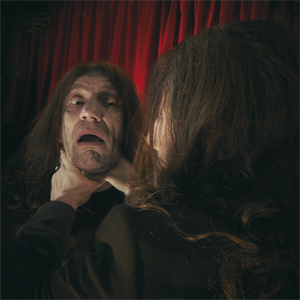 Tracklist
1: Pills of Conformity
2: Blood don't Flow Streamlined
3: A Path of Infamy
4: Soulcage
5: The Benevolent Pawn
6: The Crumbling Realm
7: To Sever the Hand of Corruption
8: Grim Apparitions
Recording line-up:
Bjørnar E. Nilsen - Vocals, Keys and samples
Øyvind Madsen - Guitars
Eivind Huse - Guitars
Kyrre Teigen - Bass
Tor Helge Gjengedal - Drums and Percussion
All lyrics by Nilsen. 1, 4 & 5 by Nilsen/Madsen. 2, 3 ,6 & 8 by Nilsen. 7 by Madsen Additional musicians: Kim Hellgren – Viola on tracks 1, 3, 4 & 8, Ben Nation – Cello on tracks 4 & 6, Keys on track 7 by Madsen, Guitars on track 8 ending theme by Nilsen. Recorded in Conclave & Earshot studios in 2006/2007. Produced by Bjørnar E Nilsen and Vulture Industries. Additional engineering by Herbrand Larsen and Arve Isdal. Mastered at Cutting Room by Mats "Limpan" Lindfors. Coverart and photos by Maja Markegård @ manmade.no
Avaliability: Released
Format: CD-digi pack, CD jewelcase, 12" double vinyl
Reviews:
8/10 Terrorizer Magazine, 15/15 Twilight Magazin, 10/10 Metal Sound Magazine, 9,5/10 Tartarean-Desire.com, 9/10 Pro-Rock Magazine, 9/10 Heavy-metal.de